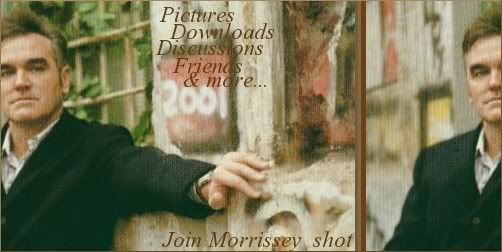 ..the place to be for everyone who can't fight the love :)
-
thewhiteshadows
Because you always wanted to be a shot member, didn't you?
-
giselamylove
Morrissey Shot...because there's a place in hell for you and your friends....
-
intplayboy
Morrissey_Shot - it's work safe internet porn.
-
gladiolishaker
Morrissey shot... 'cause you'll never be naked with the good looking man about town
-
worldofabrahan
Morrissey shot: we know a good thing when we see it
-
nonotliterally
Morrissey_Shot. Because you can't stare at Boz all the time.
-
eatenbyweasels
Morrissey_Shot: It's analysis-of-crotch-shot Tuesday!
-
frankiemouse82
Join Morrissey shot, because the gutter can be a lonely place :)
-
girlafraid50
Morrissey_shot: No such thing as "I've seen it already
-
silly_things
Morrissey_shot": No such thing as normal
-
themozuignoreme
Greetings,
vicarinatutugal
&
missgosh